Check us out on Fox 2 News! CLICK TO SEE THE VIDEO!!

CLICK HERE FOR MORE "As Seen/Featured" highlights & news!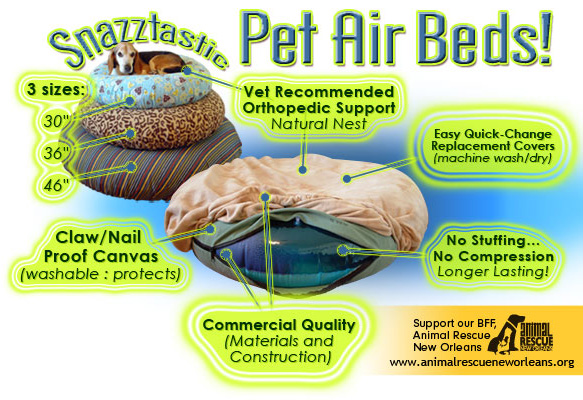 Gertie Gear pet air beds are great for dogs and cats of all ages, weights and breeds, but are especially beneficial for senior pets and those with arthritis, hip/back pain, incontinence, slobberers and other health concerns. Gertie Gear pet air beds provide an economical, full body orthopedic solution that outlasts traditional pet beds, including more expensive orthopedic memory foam beds, several times over.
Why are Gertie Gear pet air beds a better choice? ... several reasons:
full body, orthopedic support

...veterinarian recommended



naturally formed "nesting area" ...reduces/eliminates "scratching"
never compresses nor decomposes like foam/stuffing beds ...no lumps, ever!
claw and nail proof!* ...machine wash/dry canvas undercover encases inflatable
easy to assemble and deflate for travel/storage

...portability without a pump

easy, quick change covers ...extra wide zippered canvas undercover; elastic outer slipcovers
snazzy, machine washable fabric choices ...fit any style, decor, season or holiday
extra replacement covers ...minimize/eliminate "emergency laundry"
doesn't hold odors nor allergens

...

designed and constructed for regular washing



less energy to clean/maintain ...usually just wash the outer slipcover
3 sizes for small to large breeds ...virtually no weight limit
an "interchangable part" solution ...change home decor? Consider a new slipcover.
Inflatable gets a hole? Patch or order a new one -- we use standard sizes.

SUSTAINABLE ...Gertie Gear pet air beds are handcrafted in Michigan** by adult US citizens, not in a big factory overseas. We are consistantly researching and adopting more practices to maintain and increase the sustainability of our products. The Gertie Gear pet air bed was designed to maximize the "life" of the product while minimizing the energy used to clean and maintain it's appearance, yet still provide a practical solution for owners who want the best, most comfortable support for their pets without sacrificing individuality or style.

$1 FOR ARNO : $1.00 from the sale of each air bed set (and replacement covers priced $25 or more) will be donate to Animal Rescue New Orleans in support of this all-volunteer, non-profit organization's continued efforts to help area animals and pet owners still in crisis years after Katrina.
CLICK for more info and to visit the ARNO website: www.animalrescueneworleans.org