"gRRR" TOYS & ACCESSORIES
"gRRR" ...as in "gertie REcycle, REpurpose, REuse"
At Gertie Gear, we don't like waste and do our best to avoid it at every turn.
Gertie Gear "gRRR" pet toys are made from scraps of the same "tough as nails/claws" canvas that protects the inflatable part of our air beds. The size adjustable bandana/scarfs are made from fabric scraps too.

It sure would be easier to just throw all of those scraps in the trash, but we just can't do that -- it's not in our nature. Instead, we make these cute little, tough toys and accessories for you and your pets to enjoy at prices comparable to "big box store" toys.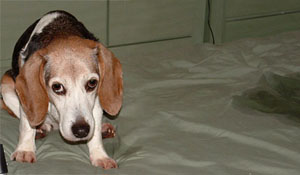 OOOOPS! SORRY... STILL WORKING ON THIS PAGE.
PLEASE COME BACK SOON!