"Nylon"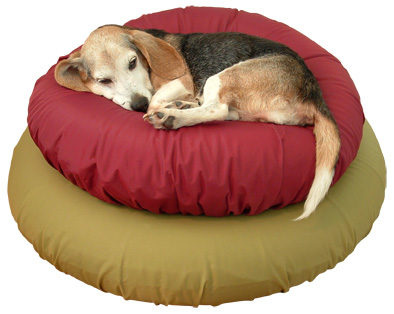 fabrics are often used to make back packs, duffel bags, and other sports related apparel and storage/carry cases because of its great durability while still being lightweight.
This nylon fabric is approximately 3.5 oz (per sq yd) with a thin Urethane back-coated, DWR (durable water-repellent). This DWR treatment forces water to bead up and roll off the fabric's surface.
[NOTE: DO NOT USE ANY DETERGENTS THAT CONTAIN FABRIC SOFTENERS which will interfere with the effectiveness of the DWR coating.]
Mildew and rot resistant, this tightly woven nylon fabric practically repels hair, dirt and dust, making it the ultimate choice for heavy shedders and great for use outdoors.
$$$ PLEASE NOTE: Price ranges indicate "cover only" cost in smallest available size to "bed set w/that cover fabric" in largest available size.
Example: $29.99 = nylon, size 30", cover only
$139.99 = size 46" full bed set w/silky cover shown